Léon Moret, known locally as Leo, was born in 1851 or 1853 in Vaudens, Switzerland. He supposedly immigrated to North America at the age of fourteen by way of New Orleans, but the earliest ship records available show Moret arriving in New York City on September 8, 1880, from Le Havre, France. By 1883, he had found his way to Canada where he met Joseph and Francois Lamoureax at Swift Current.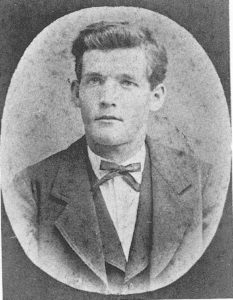 The Lamoureax brothers hired Moret to load their wagons and carts with machinery they were taking back to their farms in Lamoureax.  Moret stayed on with the Lamoureaxs and traveled with them back to the Fort Saskatchewan District. Despite having little money when he arrived, Moret managed to become one of the most prominent and industrious settlers in Fort Saskatchewan and the Northwest Territories in only a few short years.
After arriving in Fort Saskatchewan, Moret briefly worked for wages before turning to gold panning in the North Saskatchewan River for two seasons. He made $400 from gold mining which he used to purchase land four miles south of Fort Saskatchewan on the north bank of the river. By the early 1890s, he had 720 acres with 140 acres broken and sixty acres under cultivation. Moret filled his land with 100 head of cattle, fourteen horses, forty-four pigs, and thirty-two sheep.
Moret's seemingly boundless energy led him to pursue a number of businesses in Fort Saskatchewan. One of his earliest, along with his business partner Docithée Lamoureax, supplied the North-West Mounted Police with beef for four consecutive years. In 1891, after a trip home to Switzerland, Moret purchased machinery for a dairy and a cheese factory. He made various kinds of Swiss cheeses before turning his attention to exclusively producing butter in 1893. That same year, Moret also opened the Fort Saskatchewan Meat Market on the corner of 100 Avenue and 102 Street. In 1894, he opened his own butcher shop and then followed that up by building a pork packing warehouse and smokehouse in 1895.
Moret expanded his business interests beyond producing meat and dairy by briefly buying into W.G. Ross' telegraph business in 1895. The company was named Ross & Moret until Léon left the company within the year. His next venture led him to buy R. Lindlow's general store in 1896. Moret maintained ownership of the store, located on the corner of 101 Street and 100 Avenue (the current location of the Pioneer House), until 1901 when he sold it to J.H. Morris & Co. of Edmonton. He still retained ownership of the building, however, and in 1903 he constructed a new building on 100 Avenue next to the general store for Fred J. White's jewelry store. Both buildings burned down in 1904.
In 1899, Moret bought into the Fort Saskatchewan Mill Company, located on the flood plain near where Strachans Landing is now. Fort Saskatchewan's first telephone line connected the mill with Moret's general store and his business partner Percy Cunliff's residence in New Lunnon, south of Gibbons. He became the sole proprietor of the mill in 1901 before he sold it to J.W. Shera that same year, as he had gone into the coal business running a mine at the east end of the Clover Bar Bridge. Moret had a contract to supply the Oblate missions up north with coal, which he sent up the North Saskatchewan River by river scows.
With the aid and advice of Fluerie Perron of St. Albert, Moret entered into his final business venture, which would tragically take his life: a brickyard at the eastern end of the district near where the Fort Saskatchewan Correctional Institute is now located. Moret partnered with his friend W.A. Dubuc, also known by his middle name, Achille, or by his nickname, "Archie," and formed the Fort Saskatchewan Brick Works Company.  The brickyard's clay bed was twenty-three feet deep and spanned 160 acres. They could produce 35,000 clinker and red sand bricks a day. Moret and Dubuc supplied the bricks used in the City's earliest brick homes and buildings, including the 1909 Courthouse at the Fort Heritage Precinct.
The brickworks turned out to be a booming business for Moret. They shipped 750,000 bricks to Lamont, Vegreville, Vermillion, Lavoy, and even fulfilled orders out of province. The company could produce two million bricks a year for fifty years and it would only exhaust twenty acres of the clay bed. The future for the Fort Saskatchewan Brick Works Company looked bright. Unfortunately, Moret would only see four years of his new business' growth.
On August 25, 1908, a rainy Tuesday evening, Moret was checking over his equipment while it was still running. The machinery caught hold of one of his sleeves and pulled him in, tragically ending the life of a man who, only in his fifties, had managed to accomplish so much from such meager beginnings.
Upon his death, Moret left behind his wife Elizabeth, and eight children. Four daughters and four sons. He joined their fifth son, Leon Joseph Mobeste Moret, who passed away at the age of two in 1900, in the Lamoureax Cemetery. Elizabeth gave control of the brickworks to Archie Dubuc, who sold the company in 1914.