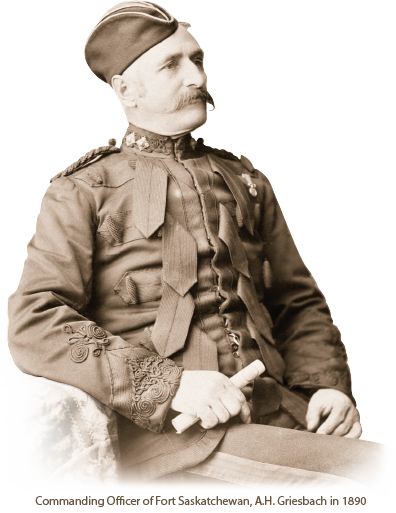 Take a Tour Through Time
Throughout the year, The Fort Heritage Precinct is accessible through guided tours. As you take a tour through the NWMP Fort, you will be whisked back in time to imagine yourself as a constable climbing the bastion to view the surrounding landscape. After exploring the Fort, hop forward in time to the historical village, where you can imagine yourself as a student in the 1902 Castle School, visualize life as a settler in the early 20th century, and see how the town doctor lived in the 1920s. You can also explore Fort Saskatchewan's history of law and order at the 1909 Courthouse and 1937 Warden's Residence.
Please note that only the exteriors of the buildings in the Fort Heritage Precinct may be viewed without a tour.
Field Trips to the Fort Heritage Precinct
The Fort Heritage Precinct offers a variety of educational programs designed to support historical thinking, delivery, and synthesis of knowledge as outlined in the Alberta Social Studies Curriculum. Through programs offered by knowledgeable and enthusiastic instructors, we offer students and teachers an interactive opportunity to engage with the rich history of our province and country.
Upcoming Public Programs
Dried Flower Bouquet Workshop
February 11, 2023
Need a touch of spring in February? Come create your own locally-grown dried floral bouquet with Josephine of Busy Bea Florals. All flower supplies and instruction will be provided, but please bring your own scissors, gardening gloves, and vessel to hold your bouquet. Josephine will have some for sa...
A True Crime Conversation: Robert Raymond Cook
January 27, 2023
SOLD OUT – THANK YOU FOR YOUR INTEREST (January 26, 2023) Come and learn more about Alberta's long-debated, final execution. Your museum guides will present evidence and popular theories, and debunk myths about this infamous case. Light refreshments will be served and attendees will h...